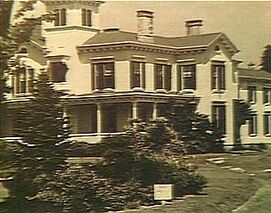 Windcliff Sanitarium was a medical facility located 100 miles north of Collinsport (261).
Dr Julia Hoffman was a psychiatrist and blood specialist working as the head of Windcliff in 1967.
Maggie Evans received treatment at Windcliff twice: the first time after escaping from Barnabas Collins in 1967 (261), and the second after being terrorized by the vampire Roxanne Drew in 1970 (1107). It can be assumed that, since history was changed by Barnabas Collins and Julia Hoffman in 1840, preventing the appearance of Gerard Stiles' ghost, and destroying Roxanne, Maggie's second hospitalization was erased from history to match the new time-line (1198).
Willie Loomis was also sent to Windcliff in 1967 (329) after he was framed by Barnabas for Maggie's abduction. He was released in 1968. Amy Jennings was staying there, following the death of her brother, Tom. (632)
Staff
Patients