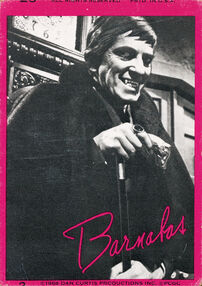 Dark Shadows trading cards were first manufactured by the Philadelphia Gum Corporation.
In 1968 the "Red Series" of the cards were released which consisted of 66 red-bordered black and white stills cards from the original Dark Shadows television serial. Most of the cards consisted of Jonathan Frid as Barnabas Collins but also featured Alexandra Moltke, Joan Bennett, Grayson Hall and Nancy Barrett. They also featured their "autographs".
The popularity of the show culminated in a second series of the cards being released in 1969 known as the "Green Series" and true to their name, they are green-bordered black and white stills cards featuring Dark Shadows' 1897 storyline scenes. A total of 66 cards of the Green Series were also produced.
External Links
Edit
Dark Shadows Everyday - Trade Secrets
Trading Card Hobbyist - Dark Shadows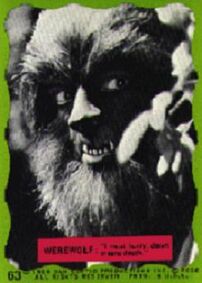 Community content is available under
CC-BY-SA
unless otherwise noted.