We're Getting Mutants in the MCU - The Loop
Play Sound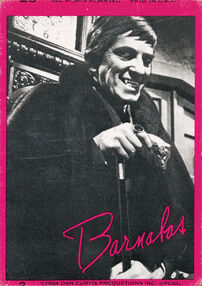 Dark Shadows trading cards were first manufactured by the Philadelphia Gum Corporation.
In 1968 the "Red Series" of the cards were released which consisted of 66 red-bordered black and white stills cards from the original Dark Shadows television serial. Most of the cards consisted of Jonathan Frid as Barnabas Collins but also featured Alexandra Moltke, Joan Bennett, Grayson Hall and Nancy Barrett. They also featured their "autographs".
The popularity of the show culminated in a second series of the cards being released in 1969 known as the "Green Series" and true to their name, they are green-bordered black and white stills cards featuring Dark Shadows' 1897 storyline scenes. A total of 66 cards of the Green Series were also produced. In 1969 Philadelphia Gum also produced a 5x7" 12 card Quentin postcard set selling three cards in 10 cent packs and "Dark Shadows Giant Pinups" selling one per pack for 5 cents each with 16 different pinups (each measuring just under 10x19".)
Pittsburgh, Pennsylvania based Imagine, Inc. produced a set of Dark Shadows trading cards in 1993. A promotional four card set (one of which was not numbered with numbered cards 1-3) was first released and noted that the entire set could be purchased for $18.45 and a deluxe autographed set (the entire set of cards plus signed cards from Roger Davis, Lara Parker, and Kathryn Leigh Scott) was available for $33.45. Many of the 62 card sets were sold as boxed sets but individual packs were also sold in 36 pack boxes with three cards per pack. The cards all featured a color photograph in the center with a gold border which resembled an ornate picture frame.
External Links
[
]
Dark Shadows Everyday - Trade Secrets
Trading Card Hobbyist - Dark Shadows
The Paper Trail of Dark Shadows!