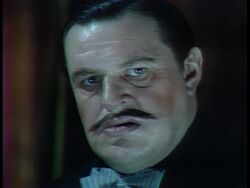 In 1970 parallel time,
Timothy Stokes
is the father of Angelique Stokes-Collins and her twin sister
Alexis Stokes
. Like
his alternate self in our universe
, the Parallel Time Stokes knows a great deal about the occult. But where his counterpart was an academic and dilletante, PT Timothy actively practiced black magic, granting his daughter Angelique immortality by using the life force from another woman,
Roxanne Drew
.
Community content is available under
CC-BY-SA
unless otherwise noted.