Timothy Eliot Stokes
Production Information
Portrayed by
First appearance
Last appearance
Episode count

63

Audio appearances

The Christmas Presence
Tuesdays and Thursdays
The Curse of Shurafa

Biographical Information
Name

Timothy Eliot Stokes

Also known as

Professor Stokes

Age

55 (1971)

Date of birth

1916

Year of death

1995 (negated time-line)

Manner of death

Killed by Gerard Stiles (negated time-line)

Profession

University Professor, Lecturer

Family members

Hallie Stokes (Niece)
Silas Stokes (Brother)
June Stokes(Sister)

We have 6 images of Dark Shadows Timothy Eliot Stokes
Professor Timothy Eliot Stokes (commonly known as Professor Stokes) is a scholar that lived in an apartment on Arrowhead Road in the town of Collinsport, Maine in the late 1960s. A man of many talents, Stokes specializes in matters concerning the occult and harbors a wealth of knowledge pertaining to ghosts, exorcism, séances and the Eastern meditative practice of divination known as I Ching. A descendant of Ben Stokes (464), servant of Barnabas Collins in the 1790s, he also knows much about local and Collins family history, including the fact that much of it was officially altered to protect the guilty.
Childhood
[
]
When he was ten years old, he nearly drowned. He would later wonder whether a parallel version of him did die at that point (972).
Later Life
[
]
Initially, Professor Stokes represented a threat to the existence of Barnabas Collins. At one point, he even began to suspect that Barnabas was a vampire that had been terrorizing Collinwood for some time. Thanks to the efforts of Julia Hoffman and the late Dr. Eric Lang, however, Barnabas was cured and Stokes never discovered the truth. In time, Stokes actually became Barnabas and Julia's strongest ally—often aiding them against the villainous efforts of adversaries such as Angelique, Nicholas Blair, and the ghost of Quentin Collins.
In the case of Adam and Eve, Stokes found himself both helping and fighting Barnabas and Julia. He believed that Adam was inherently good, but that Eve, having the life-force of Danielle Rogét, should be destroyed at all costs, except possibly the sacrifice of Victoria Winters or Maggie Evans. After Eve was murdered by Adam, Professor Stokes sent Adam to a friendly plastic surgeon to fix his scars and start a new life (636).
It was Stokes who brought medium Janet Findley to Collinwood (647) to investigate strange happenings, which led to the discovery of Quentin Collins. He later performed a séance to contact her (682).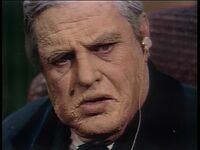 It was Stokes who instructed Barnabas in the use of I Ching (700), a process that sent Barnabas's astral spirit backward through time to the year 1897. Stokes came to Barnabas' aid again when the former vampire found himself trapped in the year 1840 along with Julia (1177). Stokes helped them expose the malevolent actions of the opportunistic Gerard Stiles and helped them use the Stairway Through Time to get them back home.
Characteristics
[
]
Stokes once joked that it always rained whenever someone asked him to visit them. His drink of choice was sherry (475).
Appearances
[
]
464, 472, 475, 487, 488, 507, 508, 509, 510, 511, 513, 518, 521, 527, 529, 536, 537, 538, 544, 550, 557, 558, 575, 579, 595, 596, 597, 598, 600, 605, 606, 636, 641, 642, 647, 660, 682, 692, 693, 694, 700, 835, 836, 858 (voice only), 889, 910, 912, 917, 928, 931, 933, 934, 972, 1062, 1065, 1067, 1070, 1072, 1083, 1084, 1113, 1114, 1177, 1187, 1198