← The Peril of Barnabas Collins →
Number

12

Publisher
Author
Released

November 1969

Dark Shadows The Peril of Barnabas Collins
The Peril of Barnabas Collins
is the twelfth of the
novels
written by
Marilyn Ross
as part of a separate continuity.
Publisher's summary
Edit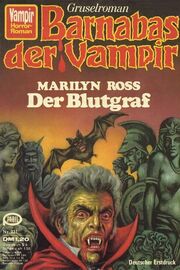 After falling in love with beautiful heiress Diana Hastings, Barnabas Collins makes a desperate attempt to find a cure for his vampire curse. He summons to Collinwood Dr. Rudolf Padrel, a strange scientist who claims he can develop a serum that will make Barnabas a normal man again.
But as time passes, Barnabas wonders if the mysterious scientist isn't merely using him for his own evil ends. Graves in the family cemetery are desecrated and a young girl is found murdered. Barnabas is denounced by the villagers, who try to storm Collinwood.
Though he knows Dr. Padrel is responsible, Barnabas hesitates to expose him. Can he risk destroying the one man who can cure him?
Synopsis
Edit
In Queen Victoria's London, Barnabas meets Diana Hastings and is inspired to try to end his curse. Together they travel to Collinwood where an evil doctor promises to cure Barnabas but ends up threatening his life as well as Diana's.
Background information and notes
Edit
Also Published in Germany in 1977 with a cover illustration by N. Lutohin.
Community content is available under
CC-BY-SA
unless otherwise noted.