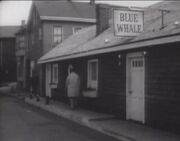 The Blue Whale is a pub in Collinsport. It was a very popular hang-out for most of the town's denizens. The same bartender could always be seen working, no matter the time of day (1).
The Blue Whale, as originally scripted, was to have been called The Rainbow Bar.
It is unknown when the Blue Whale was established, but it did exist in 1897 (704) and it appears to be in the same location as The Eagle was from 1795 to at least 1840. Given that Sophie Baker wanted Barnabas Collins to take her back there (704), it would appear its reputation in 1897 was not much better than that of The Eagle in 1795. By the late 1960s it was a much more reputable place.
The price of a beer in 1967 was 15¢ (19). There was also a jukebox in the corner which cost 25¢ per song (16). According to Burke Devlin, the Blue Whale served the best lobsters in the world (34). In 1966, the telephone number for the customer pay phone at the Blue Whale was Collinsport 7022 (44).
The 45-rpm recording of Quentin's Theme had as its B-side Number One at 'The Blue Whale', the background music played at the bar. (London Records - HLD10283 - 1969 - The Charles Randolph Grean Sounde)
In 3, a phone booth is seen in the Blue Whale, however after that point, all phone conversations are made with the payphone on the left wall.
Aristede and Victor Fenn-Gibbon see Julianka here as they plot to retrieve the hand of Count Petofi from Angelique (794). 
Patrons of the Blue Whale include: Tom Gorman, Harvey Keitel, George McCoy,
Appearances
[
]
1, 2, 3, 14, 16, 19, 33, 34, 43, 44, 45, 56, 58, 63, 64 , 65, 64, 78, 94, 102, 103, 104, 128, 129, 137, 153, 156, 166, 168, 186, 189, 190, 193, 197, 199, 202, 207, 213, 215, 216, 225/226, 229, 230, 239, 245, 252, 255, 257, 267 , 269, 270, 274, 288, 294, 295, 301, 307, 319, 341, 349, 358, 563, 607, 640, 641, 642, 794, 799, 809, 849, 855, 892, 893, 899, 900, 901, 951