Stella Young
Production Information
Portrayed by
First appearance
Last appearance
Biographical Information
Name

Stella Young

Year of death

1841

Manner of death

Stabbed in the neck with a knife

Profession

Secretary

Family members

Kendrick Young (brother)

We have 2 images of Dark Shadows Stella Young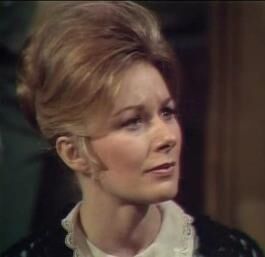 Stella Young was the sister of Kendrick Young (1191). She worked as a secretary for Flora Collins (1188).
Stella was attacked and nearly killed by Justin Collins in early 1841. Flora and Julia Collins stopped him, but they bound and gagged her in the tower room to keep her from going to the police (1204).
When Kendrick Young came to Collinwood looking for his sister, Melanie Collins began looking into her whereabouts for him. She caught Julia going up to the tower room with a tray. Melanie discovered Stella was being held prisoner (1203).
Melanie was determined that they not hold Stella against her will, and after a lengthy discussion she convinced Flora and Julia to release her as soon as Justin was buried. They planned to pay her $5,000 to keep her quiet.
However, when Flora and Julia went up to the tower room to release her, they found Stella with a knife in her throat. She had been murdered (1204).
Very soon after, Julia and Flora confessed the whole story to Morgan Collins, and asked for his help. He reluctantly agreed to bury Stella in secrecy in order to protect Melanie, whom they all believed had killed Stella in a fit of madness. Quentin Collins was told about Stella's murder just before psychic Gerard Stiles located the corpse (1207). Quentin had convinced his mother to tell the truth for once, but when questioned by the police they both feigned ignorance. The police believed the Collins Family over the word of Kendrick, who was a stranger in town (1209).
Community content is available under
CC-BY-SA
unless otherwise noted.