We're Getting Mutants in the MCU - The Loop
Play Sound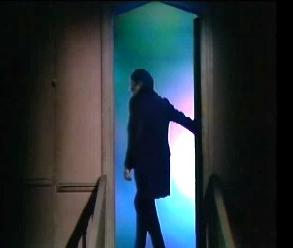 The Stairway into Time was an invention of the original Quentin Collins, designed for time travel. Quentin constructed the staircase in his laboratory at Collinwood in the year 1840 (1145), though the staircase later appeared in the west wing of the house (1085).
Origin
[
]
Quentin believed that time was to be understood as physical space, and built the stairway based on his theories (1085, 1145). The design plans for the staircase survived for 130 years and the second Quentin Collins found the plans in the west wing (1085). The staircase was hidden behind the Collinwood playroom and could be accessed through a secret door in the back of the room (1070).
Use
[
]
Dr Julia Hoffman and Barnabas Collins first used the stairway when they discovered it in the year 1995. After climbing up and down a flight of steps, the duo returned to 1970 (1070). David Collins and Hallie Stokes found the ghosts of Tad Collins and Carrie Stokes beckoning them to climb the stairs and become lost in the past not long before the spirits of the two children from 1840 took possessed David and Hallie's minds (1086). Julia Hoffman used the stairway again to escape the destruction of Collinwood in the present, and found herself in 1840 (1110). Professor T. Eliot Stokes used the stairs some months later to arrive in 1840, himself (1177), and Barnabas, Julia, and Eliot later used the stairs to return to the present after completing their work in 1840. Desmond Collins promised to destroy the stairs following the trio's return to the twentieth century (1198).
Notes
[
]
On its first use, the stairway transported Barnabas and Julia from 1995 to 1970, but on the same date that they had left Parallel Time. This baffled those at Collinwood, as no account could be made for Barnabas and Julia's week in the future. Later uses of the staircase sent travellers to the year they desired, but on the same date as their departure from the previous time.