Sheriff Davenport
Production Information
Portrayed by
First appearance
Last appearance
Episode count

7

Biographical Information
Name

Sheriff Davenport

Age

35 (1970)

Date of birth

1935

Year of death

1970

Manner of death

Murdered by Jeb Hawkes
(In death)
Destroyed by Chris Jennings in werewolf form.

Profession

Sheriff

Supernatural abilities

(In death)
Zombie

We have 47 images of Dark Shadows Sheriff Davenport
Sheriff Davenport was the Sheriff of Collinsport in 1970. He was the successor of George Patterson.
In early 1970, Davenport was trying to investigate the mysterious death of Paul Stoddard, who had warned him about the Leviathans. He suspected that the strange happenings in the antique shop had something to do with his death after finding a cuff-link from Paul's coat.
In order to stop his investigation, Jeb Hawkes murdered him in his true form. Hawkes later brought Davenport back from the dead as a zombie to serve him. Davenport was later killed a second time by Chris Jennings in his werewolf form.
Following his death he was replaced, once more, by George Patterson.
917, 934, 935, 938 (hand only), 939, 942, 960, 961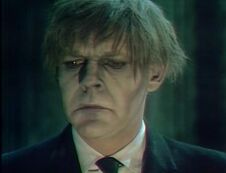 Community content is available under
CC-BY-SA
unless otherwise noted.