Shadows of the Night (Quentin's Theme) is a Grammy-nominated and top-ten single recording of Quentin Collins' theme music by Robert Cobert with narration by actor David Selby. Recorded in 1969, "Shadows of the Night (Quentin's Theme)" was released on the album Original Music From Dark Shadows (Volume 1) in its LP and later compact disc printings.
In  episode 719 Quentin tells Magda the reason he likes the song so much telling her "I read somewhere where every person has a theme of music, well this is mine, when I'm alone depressed I can play this and suddenly I'm not in this room or this house, I'm free somewhere, somewhere exciting."
Shadows of the night, falling silently,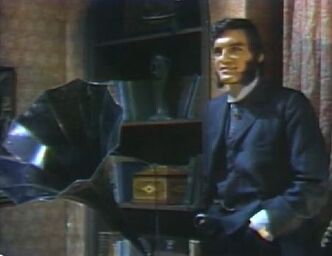 Echo of the past—calling you to me.
Haunting memory, veiled in misty glow,
Phantom melody, playing soft, and low.

In this world that we know now
Life is here, then gone.
But somewhere in the afterglow,
Love lives on and on.
Dreams of long ago meet in rendezvous,
Shadows of the night—calling me to you.
Calling me to you.
Appearances
Edit
The music (instrumental version) is heard in episodes 644, 646, 648, 649, 656, 668, 676, 678, 680, 684, 686, 688, 691, 693, 694 (ghostly version), 786, and others. In episode 719 Quentin explains why he loves the song so much.
Community content is available under
CC-BY-SA
unless otherwise noted.