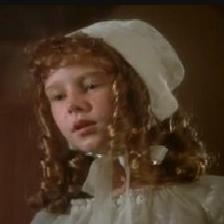 Sarah Collins
(1781-1790) was the daughter of
Joshua Collins
and
Naomi Collins
and the younger sister of
Barnabas
,
Jeremiah
, and
Daniel Collins
. She died at the age of nine from pneumonia. Her death was severely mourned by all who knew her, especially her brother Barnabas .
In 1990, two centuries after her death, her ghost appeared to Barnabas shortly after he had been released from his coffin, telling him to stop hurting people. She also appeared to David Collins and Victoria Winters. While exploring the abandoned west wing of Collinwood, Victoria found Sarah's diary in an old library and gave it to Barnabas, who read it to Willie Loomis. It seemed like Sarah was trying to give her brother a warning that he and everyone else at Collinwood would be in danger. Shortly before Victoria Winters was transported back to 1790, Sarah appeared to Barnabas and told him that someone had to go back and change what was happening now, but an apparition of Angelique sent Sarah away. The only way to contact Sarah was a seance. During the seance Victoria vanished and a strange woman appeared in her place—she introduced herself as Phyllis Wicke, the new governess to Sarah and her brother Daniel.
Community content is available under
CC-BY-SA
unless otherwise noted.