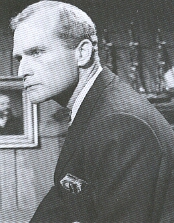 Roger Collins was a shameless playboy and compulsive womaniser who lived at his family estate, Collins House in Collinsport, Maine in the mid-late 20th century. His sister, Elizabeth Collins Stoddard, was the head of the family and manager of the Collins family fishing fleet and shipyards. Roger had a son named David.
Business
Edit
Roger maintained an influential hand in the day-to-day running of the family enterprises and would frequently engage in business trips to Augusta and Bangor. He had little interest in the actual workings of the business however, and his involvement in the industry was more for the sake of stature and personal reputation.
Roger held a great disdain for his own family. He would frequently fight with his sister, and make light of the fact that she had become a recluse who refused to set foot outside of Collins House for more than twenty years.
Roger also took great joy in teasing his son's governess, Victoria Winters. Initially, Roger was quite infatuated with Vicki, but when she rejected his amorous behaviour, he decided to make her the target of constant, playful ridicule (Dark Shadows). Roger loved nothing more than making light of Vicki's personal troubles and making her feel as uncomfortable as possible at any given moment.
Another relative that persisted in sparking Roger's ire, was his uncle, Henry Collins. Henry seldom visited Collins House, but whenever he did so, Roger made sure to make the man feel as unwelcome as he possibly could (Strangers at Collins House).
In June of 1967, Roger began dating a woman named Rachel Francis. They shared few things in common, but they both seemed to nurse a great appreciation for good liquor. Their romance ended when Roger discovered that Rachel was actually married to a scam-artist named Henry Francis. Rachel had been posing as Henry's daughter at the time, and was involved in the kidnapping of a rich heiress named Grace Fontaine (Victoria Winters).
In July of that same year, Roger invited a business associate named Rupert Harvey, an alleged psychometrist, to stay at Collins House to perform a psychic reading on the mansion. He did so in order to provoke histrionic behaviour from Elizabeth and his Uncle Henry (Strangers at Collins House).
Roger Collins enjoyed the finer things in life. There was never a time that Roger was at home when a glass of brandy or a dry Martini couldn't be found in his hand.
Roger maintained a private yacht that he kept moored on the docks, not far from Widow's Hill. Whenever he felt the need to get away from the drama of family life, Roger would sequester himself to his yacht where he kept a fully-stocked liquor cabinet (Victoria Winters).
Appearances
Edit
Community content is available under
CC-BY-SA
unless otherwise noted.