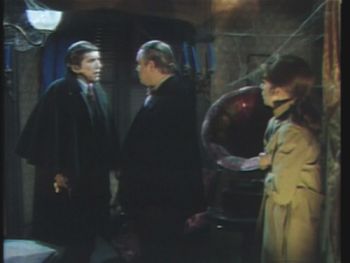 Quentin's room
in the
west wing
of
Collinwood
was a sealed-off room, hidden behind wooden panelling, where
Quentin Collins
originally died.
One day, David Collins and Amy Jennings were playing with an antique telephone they found in the west wing and Amy heard a voice who identified himself as Quentin (639). At first, David only heard breathing on the other side, but eventually was also able to contact Quentin via the telephone. After a double-séance; one performed by David and Amy (640) and another with the adults in Collinwood (642) stirred Quentin further, he contacted Amy and told her and David how to visit him in his hidden room (643), which they accessed through a secret passage in the drawing room. Inside the room, David and Amy find Quentin's remains (645), which he instructs them to bury (646).
The ghost of Beth Chavez appeared in the room when the children first saw Quentin. Her attention seemed to be focused on a small wooden crib which would rock back and forth on its own.
When Quentin's spirit wanted to contact David or Amy, his theme song would play on an antique gramophone in the room (646-). Professor Stokes later found Quentin's I Ching wands (700) there.
The room was later restored and Quentin lived in it again upon resuming residence at Collinwood in 1970 (1071).
Community content is available under
CC-BY-SA
unless otherwise noted.