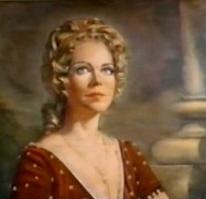 The portrait of Angelique was commissioned some time in the early 19th century. Angelique Collins was a witch who was executed on the grounds of the Collinwood estate in 1810. The picture originally hung in the drawing room of Collinwood, but when Quentin Collins turned the room into a studio, he removed the portrait, calling it "disturbing." The housekeeper, Carlotta Drake, was fiercely loyal to the spirit of Angelique and returned it to its proper place.
The Hidden painting of Angelique
Edit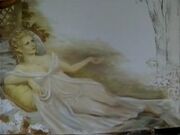 There was also a second portrait of Angelique, painted by her lover
Charles Collins
around 1810. It survived through the years and remained sealed away inside the third-floor
tower room
at Collinwood. In the summer of
1971
, Quentin Collins took ownership of Collinwood and discovered the portrait's existence. After being exposed to the portrait, Quentin began to experience violent,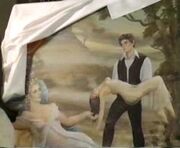 troublesome episodes—courtesy of the spirit of Angelique.
Originally, the portrait showed only Angelique, but after Charles's influence, Quentin completed the picture to include himself, carrying the body of a woman who resembles Tracy Collins.
Appearances
Edit
Community content is available under
CC-BY-SA
unless otherwise noted.