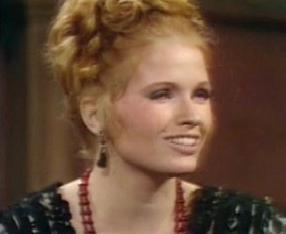 Pansy Faye was the elder sister of Rosie Faye, and the first cousin (once-removed) of Leticia Faye. Her mother worked in pantomimes and taught her everything she knew (822). Her father, Bertie Faye, was dead long before 1897 (861). Originally from London, Pansy Faye came to America in the late 1890s and worked as a mentalist psychic at dance halls. She was working at a hall in Atlantic City in 1897 when she met and fell in love with Carl Collins. Carl Collins proposed marriage and brought her to Collinwood.
Pansy Faye was looking forward to retiring from her work upon her marriage to Carl Collins and had made plans for a big church wedding. Carl Collins had even asked Barnabas Collins to serve as best man at the ceremony (771). Judith Collins was less than impressed by Pansy Faye, even though her powers were eventually proven to be real. Pansy Faye was murdered before her marriage to Carl could take place when she became the first victim of vampire Dirk Wilkins. Not long after her death, her spirit inhabited the body of Charity Trask.
Inside the body of Charity Trask, Pansy Faye was revealed to be a sensitive and good-hearted person, despite her brassy exterior. She truly loved Carl Collins and mourned his death deeply. She later took up singing at the Blue Whale and became romantically interested in Quentin Collins although he did not return her affection. Pansy's psychic powers were proven to be genuine when Count Petofi inhabited Quentin's body; Pansy was the only one who recognized the difference.
Big Finish Productions directly elaborates on Pansy's adventures in The Poisoned Soul and Fall of the House of Trask. She is also mentioned in the adventures of other Fayes London's Burning and Curtain Call.
Appearances
Edit
771, 772, 777, 778, 804, 805, 806, 808, 819, 822, 823/824, 829, 830, 833, 837, 845, 846, 855, 860, 861, 864, 865, 866, 869, 870, 872, 873, 874, 881, 882, 883, 887