Nora Collins was the younger sister of Jamison Collins, who were the children of Edward Collins and Laura Collins. She lived at Collinwood in 1897 with her father, her great-grandmother, Edith Collins, her Aunt Judith, her Uncle Carl, and her Uncle Quentin.
Nora Collins was the youngest member of the Collins clan living at Collinwood when
Barnabas Collins
travelled back in time to solve the mystery of the haunting of Collinwood in 1969 by Quentin Collins and to discover what the connection was between Quentin and
Chris Jennings
.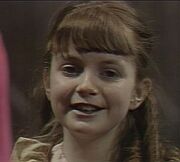 Barnabas sometimes said that the survival of both Jamison and Nora was crucial to the continuation of the family in the 1960s, but in truth, we only know that Jamison had descendants (his children would be
Elizabeth Collins Stoddard
and
Roger Collins
). Nothing is known of Nora Collins after the 1897 flashback.
Appearances
Edit
716, 728, 729, 730, 735, 736, 756, 760, 761, 782, 783, 812, 813, 816, 850, 859