This article needs attention.
This page does not adequately cite one or more of its sources, and needs attention. If you can provide references from valid resource material, feel free to edit it to add a citation or correct the data.
---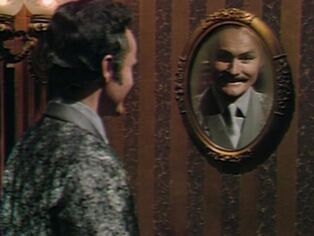 The mirror is a tool of Nicholas Blair's, and makes its first appearance in the drawing room when he looks into it to see his own reflection, which transforms into a vision of Victoria Winters. Displayed in the drawing room of the house by the sea where he lived on the Collins estate, the mirror could be used to look into far-away places when Nicholas (or someone else) incanted, "cast your reflection away from this room, and show me, another room...." Angelique learned how to use the mirror in order to see the preparations to create Eve (580). Like Nicholas, she was then able to travel to the room she was looking at in order to stop certain events. Adam was shown how the mirror worked, but did not learn how to use it.
Nicholas uses the mirror to interrogate Willie Loomis about Barnabas, Julia, and Jeff's involvement in the experiment with Adam (574). Nicholas tells Willie that when he wakens, he will think that he has only been dreaming. Angelique eavesdrops on Nicholas. She also uses the mirror to eavesdrop on Julia and Adam as Adam tells Julia not to continue with her experiments (580).
Angelique steals the mirror from Nicholas and uses it to eavesdrop on Nicholas and Eve (621-622).
When searching for Angelique's coffin, Barnabas accidentally steps on it, breaking it (637). The proximity of the mirror to Angelique's coffin might hint that she may have used it to discover that Barnabas and Julia were searching for her.
Appearances
Edit
Community content is available under
CC-BY-SA
unless otherwise noted.