Magda Rakosi
Production Information
Portrayed by
First appearance
Last appearance
Episode count

60

Biographical Information
Name

Magda Rakosi

Also known as

Gypsy

Profession

Fortune Teller

Supernatural abilities

Spell casting

Family members

Sandor Rakosi (Husband)
Jenny Collins (Sister)

We have 5 images of Dark Shadows Magda Rakosi
Magda Rakosi was a gypsy who lived in the Old House on the Collinwood estate in 1897. Magda placed a werewolf curse on Quentin Collins to punish him for his cruelty to his wife, Jenny Collins, who was secretly Magda's sister. Magda was eventually persuaded to try to remove the curse, in part because she learned from Barnabas Collins - during his time-traveling visit to 1897 - that it would affect Quentin's male descendants, including Magda's own infant nephew as well as Barnabas' friend in the future, Chris Jennings. She stole the Hand of Count Petofi from her gypsy tribe in an attempt to lift her curse from Quentin.
Biography
Edit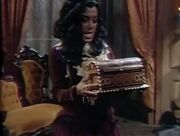 Magda and her husband, Sandor Rakosi lived at the Old House by special permission of Edith Collins (701). Magda was obsessed with finding the Collins family jewels and one night, while reading in her crystal ball, she discovered there was a hidden room inside the old Collins Mausoleum. What she did not know was that this vision was sent to her by Barnabas Collins, who - seeking to learn the cause and find a solution to the werewolf curse on his friend Chris Jennings - had just used the power of the I Ching wands to travel back in time to 1897 and needed to be freed from his coffin.
When Sandor returned with Barnabas, Magda saw the bite marks on Sandor's neck and realized that Barnabas was a
vampire
(
702
)-(
703
). With Sandor under Barnabas' supernatural influence, Magda was induced with a mixture of bribery and threats to help protect Barnabas' secret while he slept in his
coffin
each day. Despite this unpromising beginning, the two eventually became friends and allies against
Count Petofi
and in trying to use Petofi's severed
hand
- which Magda had stolen from her gypsy king
Johnny Romano
- to remove the
werewolf
curse she had placed on
Quentin Collins
.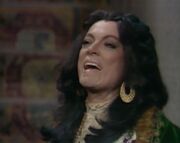 In 1968, years after her death, Magda spoke through Carolyn Stoddard during a seance. She warned Elizabeth Collins Stoddard, Professor Stokes, Victoria Winters and Chris Jennings that they should try and stop him - presumably referring to Quentin's spirit (642).
Appearances
Edit
701, 702, 703, 706, 708, 713, 715, 718, 719, 724, 733, 734, 736, 740, 741, 745, 746, 748, 749, 750, 752, 757, 759, 763, 765, 766, 778, 779, 781, 783, 784, 785, 786, 787, 788, 790, 792, 797, 798, 799, 800, 801/802, 806, 807, 808, 810, 811, 815, 819, 820, 821, 823/824, 825, 826, 827, 830, 831, 834, 855, 856, 887
Community content is available under
CC-BY-SA
unless otherwise noted.