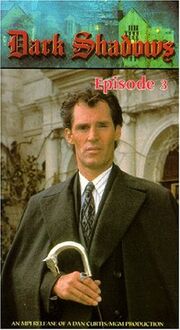 Dark Shadows: Episode 3, was a VHS release, cataloged by MPI Home Video as MP6312, in 1992. It contained Episode 3, broken into an individual, hour-long episode, of the 1991 Dark Shadows Revival Series.
This release contained Victoria Winters' opening voiceover, which was not aired in the episode's initial telecast:
"My name is Victoria Winters. Night has fallen on the Old House- a night of promise and foreboding. For a being older than time, a tortured creature, may soon free himself of his torment, if only he can conquer the evil powers that drive him."
Community content is available under
CC-BY-SA
unless otherwise noted.