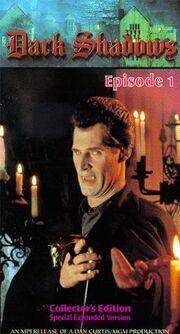 Dark Shadows: Episode 1, was a VHS release, cataloged by MPI Home Video as MP6310, in 1992. It contained the movie-length pilot episode of the 1991 Dark Shadows Revival Series. Labeled "Collector's Edition, Special Expanded Version", this release contained additional footage not shown during the series' telecast re-edited into the episode.
Special Expanded Version
[
]
The following footage was re-edited into the episode:
Roger Collins tells Elizabeth Collins Stoddard of a walk he took with David Collins during which David asked if his father liked him. Despite Elizabeth's feelings that Roger and David will get to know each other, Roger explains that he resents David's life. Roger adds that he would have left the boy to die in a burning room to save the sanity of a woman he does not identify.
Joe Haskell walks out of

The Blue Whale

to watch Victoria Winters leave with Willie Loomis. Willie bids him goodnight, calling him "lover boy" again and laughing. Joe returns to the bar and carries Daphne Collins out to his car for a romantic moment.
Elizabeth tells Victoria that David has been without his father for about six years, and that she brought the boy back from England after his mother became ill. Victoria meets Roger, who prevents Elizabeth from revealing the identity of the artist who painted the Seurat painting in the drawing room. Victoria and Roger discuss teaching art, and Roger claims that David will be as much of a challenge as Victoria can handle.
While Victoria unpacks, Carolyn Stoddard visits her room. Dogs howl outside, and Victoria sees Barnabas Collins from the window, but he is gone by the time Carolyn looks. Carolyn suggests that Victoria take a bath and get some rest.
Although Dr.

Fischer

tells him to get some coffee, Joe refuses to leave Daphne's side in the hospital.
Elizabeth and Carolyn come into Daphne's room at the hospital. Carolyn kisses Joe's cheek and comforts him while Elizabeth looks at Daphne.
At breakfast, Victoria and Roger discuss David again, and Victoria suggests not to expect too much too soon from the boy. Roger states that he never expects anything to avoid disappointment. Sheriff

Patterson

comes to Collinwood and meets Victoria. He reveals that the investigation is no longer looking for an animal, and that he wishes to speak with Willie because of his behavior at The Blue Whale. Roger and the sheriff go to the stables to look for Willie, but find that he is not there.
Carolyn drives Victoria to the stables, telling her that she has recently come back to Collinwood after beginning a career in photography. Victoria suggests that Carolyn can now go back since she has arrived to take care of David, but Carolyn says that it would be hard to leave at the present time. Carolyn recommends that Victoria ride the chestnut mare named Carolyn.