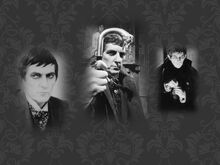 Hello all Dark Shadows fans.  I recently began watching the series from the beginning for the first time since I was a teenager.  I was inspired to create this composite photo of Barnabas and a stage photo of myself.  I'd love to get your impressions. Thanks! And please be honest :)
Vger42
Nice job and very classy choice in your pictures of Barnabas! :D -- AmethystTrask
Thank you AT. Those are fantastic shots of Barnabas, I love them! I should remove my photo, lol. If I was wearing stage make up it might look better but still a fun experiment. - Vger42
I added two more creations. I love the monochrome version - Vger42
The monochrome version looks great. Is your stage photo from a production you were in, and if so, was it paid work or amateur? - AmethystTrask
Hello Amethyst. That is/was a promotional stage photo. I have appeared in several local theatre productions none of which were paid. I'm attending an audition on Monday, wish me luck! :) I was 16 when Dark Shadows premiered. I'm in the group who rushed home from school every day to watch. It was huge! I have only just now begun to revisit it and its still amazing- Vger42
Aw, good luck, I hope it goes really well!! Because I'm from Britain and born in the 90s I never saw it the first time, but was lucky enough to discover it 3 years ago. It was love at first sight (or should that be bite?) ;) - AmethystTrask
Thank you AT. Aye, love at first bite :). They will announce their cast selections next week for the audition I attended on Monday. I created a Youtube video tribute to Barnabas/Dark Shadows today. Here is the link, I hope it works.
https://www.youtube.com/watch?v=IefIxVBoj1I
- Vger42
I'll keep my fingers crossed for your audition, and great video!! I guess it goes without saying that Barnabas made a big impression on you? :D I love David Selby, but my favourite character is Professor Stokes. So, did lots of your friends watch Dark Shadows back then too? - AmethystTrask
Yes, we all rushed home from school to watch DS, at least for the two years before graduation. I don't remember watching it much after that. I think you might say I am a Jonathan Frid fan not necessarily a Barnabas fan. I am amazed at his acting skill and talent. He definitely makes a big impression on me. Thayer David is a wonderful actor, I like him very much too. I saw him in the movie theatre when I was 9 years old in Journey to the Center of the Earth. They did offer me a role in the play but I turned it down after reading the script. It was a comedy but not my kind of humor. - Vger42
I understand -- you really need to believe in a project if you're going to involve yourself with it. I know what you mean about Jonathan Frid -- my feelings towards Barnabas are quite up-and-down, but Jonathan Frid manages to play him so well and so sympatetically, I can't help liking him. I asked about your friends watching DS because there's something I've been curious about ever since I first saw the whole series -- if you don't mind me asking, did you and your friends get to the Leviathan Story Arc before you all graduated and stopped watching it? -- AmethystTrask
Hello again Amethyst
I haven't watched or read anything about Dark Shadows since I was in school. Currently, I'm watching the series and I believe I'm nearing the end of the 1795 plot. Joshua will soon chain Barnabas in his coffin. I still remember the 1795 plot from my school days, but beyond that I'm not sure. I'll have to wait and see. I don't really recall the Leviathans (I see they are inspired by Lovecraft). I think we may have graduated by that time. I graduated June 1968 and went to off work and marriage. I don't recall watching Dark Shadows after I graduated. I wish I would have stayed interested over the years as I live only 2 hours from NYC and I could have gone to the DS festivals and met the actors, especially Frid. My sad loss.
I am inspired to begin development of a short stage play comprised of series of vignettes from the show with introductions by Barnabas as he remembers the events. I just sent correspondence to inquire about permission to reproduce the material for the vignettes. I am writing new material for Barnabas's introductions as he looks back on his life. I'll keep you posted. I hope I can make it happen. - Vger42
I was in touch with THE people who hold the DS copyright. Permissions are not available - at all - no way - no how. At least to me anyway.  :( I had my heart set on it and some work completed. -Vger42
Unbelievable. There is announcement just today (just two days after I contacted the copyright holders!). 'The CW and Warner Brothers' have made a deal to develope 'Dark Shadows: Reincarnation' for television. The pilot will be written by Mark B. Perry who pursued the rights for two years. Check it out:
https://deadline.com/2019/09/dark-shadows-cw-warner-bros-television-barnabas-collins-mark-b-perry-dan-curtis-1202729676/
Amethyst, I wish you could have seen my vision for a two hour stage production featuring Barnabas's most poignant soliloquies from the first two years of the show. I wrote it up as 'present day Barnabas' reflecting back on the life transforming events from his past. I wanted permission to use Dark Shadows dialogue from those events with the most prominent people in his life; Josette, Angelique, his father, Ben, Willie, Julia were in several of the scenes (naturally). But I wrote original stuff for 'present day Barnabas' as he reflected back on these events. I had about 12 vignettes picked out. Each vignette would be between 3 and 12 minutes long. Barnabas would have had a couple solo soliloquies. I even had original music from an Australian composer picked out (his music was available), and a restored historic Art Deco theatre in my home town with a restored pipe organ. I was going to recruit Shakespearean actors from our renowned University Shakespeare department. I wasn't going to hold auditions. My production showcased Barnabas in a sort of tribute to Jonathan's talent and it would have been very moving. It wasn't really a Dark Shadows celebration but rather a theatrical expose on the 'reluctant, tortured duality of the the Vampire as developed by story creator Art Wallace and performed brilliantly by Jonathan Frid. I think Wallace's depiction of a sympathetic vampire is epic and right up there with the best Gothic silver screen films. It would have been awesome. -Vger42
Hi Amethyst: I just created a new video, hope you have time to watch it - only 2 min or so.
Jonathan Frid: The Classic Gothic Vampire Barnabas Collins Reflections of the late, great Jonathan Frid's classic portrayal of sympathetic 20th Century Gothic Vampire; Barnabas Collins of Collinwood.
https://www.youtube.com/watch?v=QfMEOtrY2x0
(I updated the video with the new link) Vger42
Community content is available under
CC-BY-SA
unless otherwise noted.