Jonathan Frid
(December 2, 1924 - April 14, 2012) was a Canadian actor, probably best known for his portrayal of
Barnabas Collins
in the original
Dark Shadows
. He also played
Bramwell Collins
in the final year of the show.
Biography
Edit
Education
Edit
Born John Herbert Frid, after war service in the Canadian Navy he attended McMaster University in Hamilton, Ontario, Canada[1] before attending the Royal Academy of Dramatic Arts in London. From there he eventually attended Yale School of Drama where he obtained another Master's Degree in Directing.
A seasoned Shakespearean actor, he appeared in many plays in the USA and Canada before
Dark Shadows
and is well known for his part in the cast of
Arsenic and Old Lace
with Jean Stapleton, where he replaced
Abe Vigoda
 (who had played two small roles in
Dark Shadows
)
after the series ended. Frid took a hiatus from attending
Dark Shadows
conventions after 1993.
Frid retired to Ancaster, Ontario, which is a part of his native Hamilton where he grew up. After a long hiatus, Frid made an appearance at the 2007 Dark Shadows Festival, and continued to appear frequently until his death. In 2010, Frid returned to the role of Barnabas after 39 years in the Big Finish Productions dramatic reading, The Night Whispers.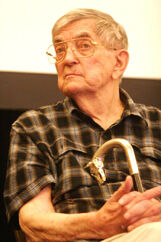 His final appearance on film was a cameo in Tim Burton's Dark Shadows film along with fellow original cast members Lara Parker, Kathryn Leigh Scott and David Selby, where he portrayed a party guest. He appeared at the 2010 Dark Shadows Convention in California and performed with David Selby at the 2011 Convention in New York City. At the time of his death, he was scheduled to appear at the 2012 Dark Shadows convention in Tarrytown, New York.
Personal life
Edit
It has been noted by Frid's family and assistants that he likely suffered from some form of dyslexia, and had trouble in school because of it.[2] He never married, apparently believing that the life of an actor was fraught with insecurities.
Jonathan Frid died after a serious fall early Saturday morning 14 April, 2012 (some sources say Friday 13 April).[3]
Appearances
Edit
211, 212, 214, 218, 220, 221, 222, 224, 225/226, 227, 230, 233, 234, 236, 238, 239, 240, 241, 243, 245, 247, 248, 250, 251, 253, 255, 258, 260, 261, 264, 267, 274, 276, 277, 278, 279, 280, 281, 285, 286, 287, 288, 289, 290, 291, 293, 294, 295, 296, 297, 299, 300, 301, 302, 305, 306, 309, 310, 311, 312, 315, 316, 317, 318, 319, 320, 321, 322, 323, 325, 326, 328, 329, 330, 331, 332, 333, 337, 338, 339, 340, 341, 343, 345, 346, 347, 348, 349, 350, 351, 353, 354, 355, 356, 358, 359, 362, 363, 364, 365, 366, 368/369, 370, 371, 374, 375, 378, 379, 380, 381, 383, 384, 385, 386, 388, 389, 390/391, 392, 394, 395, 396, 397, 398, 399, 400, 401, 402, 403, 404, 405, 406, 407, 408, 409, 411, 413, 414, 415, 416, 417, 418, 419, 420, 421, 422, 423, 424, 425, 426, 429, 430, 431, 432, 435, 438, 439, 440, 442, 446, 447, 449, 450, 451, 457, 458, 459, 460, 461, 462, 463, 464, 465, 466, 467, 469, 470, 471, 472, 473, 475, 476, 477, 479, 480, 481, 482, 483, 484, 485, 486, 487, 488, 490, 491, 492, 493, 495, 496, 498, 500, 501, 505, 506, 511, 512, 516, 520, 521, 522, 530, 531, 532, 534, 535, 536, 538, 542, 546, 547, 548, 549, 551, 552, 553, 554, 556, 557, 558, 560, 561, 562, 564, 565, 566, 567, 568, 570, 571, 572, 573, 579, 582, 583, 584, 585, 586, 587, 588, 589, 590, 591, 592, 593, 594, 595, 596, 597, 599, 600, 601, 604, 605, 606, 608, 612, 613, 614, 615, 616, 618, 619, 620, 621, 630, 631, 633/634, 635, 636, 637, 645, 650, 651, 652, 654, 656, 657, 659, 660, 661, 662, 663, 664, 665, 666, 667, 672, 673, 674, 675, 676, 677, 678, 682, 683, 684, 685, 686, 687, 688, 689, 694, 695, 696, 697, 698, 699, 700, 701, 702, 703, 704, 705, 706, 708, 709, 711, 712, 713, 717, 718, 720, 721, 723, 724, 725, 726, 727, 728, 732, 738, 739, 740, 741, 742, 743, 744, 746, 747, 754, 755, 756, 759, 760, 761, 763, 764, 765, 766, 767, 768, 769, 770, 771, 772, 775, 778, 779, 780, 781, 782, 783, 784, 787, 794, 795, 796, 797, 798, 803, 804, 805, 807, 814, 815, 817, 821, 825, 827, 834, 835, 837, 839, 841, 842, 844, 845, 867, 868, 869, 870, 871, 872, 873, 874, 875, 876, 882, 883, 884, 885, 886, 887, 889, 890, 891, 892, 894, 897, 900, 901, 904, 905, 906, 907, 912, 915, 916, 926, 929, 930, 931, 935, 936, 937, 938, 939, 940, 941, 942, 943, 944, 947, 948, 950, 951, 952, 954, 955, 957, 961, 963, 965, 966, 969, 970, 971, 972, 975, 977, 978, 980, 981, 982, 1011, 1012, 1013, 1015, 1016, 1017, 1018, 1020, 1021, 1024, 1026, 1027, 1029, 1031, 1032, 1033, 1034, 1035, 1036, 1038, 1039, 1041, 1043, 1044, 1045, 1046, 1047, 1048, 1051, 1053, 1055, 1056, 1057, 1058, 1059, 1060, 1061, 1062, 1063, 1064, 1065, 1066, 1067, 1068, 1069, 1070, 1071, 1072, 1073, 1075, 1078, 1081, 1082, 1090, 1091, 1092, 1095, 1097, 1098, 1101, 1102, 1104, 1105, 1106, 1108, 1109, 1112, 1113, 1114, 1115, 1116, 1118, 1121, 1122, 1124, 1129, 1130, 1131, 1133, 1134/1135, 1136, 1137, 1138, 1139, 1143, 1144, 1148, 1149, 1159, 1163, 1164, 1168, 1169, 1171, 1172, 1178, 1179/1180, 1181, 1185, 1186, 1195, 1196, 1197, 1198
1199, 1200, 1201, 1202, 1205, 1206, 1207, 1213, 1214, 1217, 1218, 1219, 1220, 1221, 1224, 1228, 1229, 1232, 1233, 1235, 1238, 1239, 1241, 1242, 1243, 1244, 1245
Audio Performances
Edit
References
Edit
External links
Edit
Cite error: <ref> tags exist, but no <references/> tag was found