Jean Simmons
Biographical Information
Name

Jean Simmons

Birthplace

Lower Holloway, London, England, United Kingdom

Birth date

January 31, 1929

Death date

January 22, 2010

Production Information
Productions
Characters
We have 2 images of Jean Simmons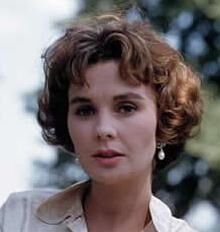 Jean Simmons, O.B.E. (Jan 31, 1929 - Jan 22, 2010) was an English-American actress who had a long and succesful career on both television and film. She was nominated for an Academy Award in 1948 for her performance as Ophelia opposite Laurence Olivier's Hamlet. Also an accomplished singer, she provided her own singing for her starring role in the musical Guys and Dolls, for which she won a Golden Globe as Best Actress (musical/comedy).
Her film credits include The Happy Ending, Black Narcissus, Young Bess, The Actress, Spartacus, and Elmer Gantry. She was married to actor Stewart Granger and had two daughters, Tracy and Kate (named for her friends Spencer Tracy and Katharine Hepburn).
Ms. Simmons made a comeback in the 1980s, winning an Emmy for her performance in The Thorn Birds as well as making a critically-acclaimed appearance in the Star Trek: The Next Generation "The Drumhead". In 1991 she accepted the roles of Elizabeth Collins Stoddard and Naomi Collins in the Dark Shadows revival - she admitted to having been a fan of the original series.
Jean Simmons passed away in 2010 from lung cancer, nine days shy of her 81st birthday.