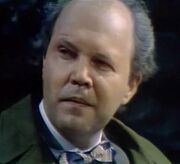 Horace Gladstone was a chemist who aided Cyrus Longworth with his experiment in 1970 parallel time.
Horace aided Cyrus by delivering shipments of the chemical he needed for his experiment of separating the good and evil in man. While Cyrus never revealed the nature of his experiment to Horace, Horace started to get suspicious when Cyrus told him that the chemical caused amnesia. Eventually, Horace discovered that Cyrus and John Yaeger were the same person, and attempted to blackmail Cyrus for $10,000 in cash to keep his experiment a secret.
Horace later arranged to meet with the Collins family lawyer, Larry Chase, about Yaeger at the Eagle Tavern, but he was murdered by Yaeger near the docks in Collinsport before the meeting ever took place. Yaeger hit him over the head and ran his sword cane through him. Horace was the first murder victim of Yaeger. His body was later discovered by Larry.
Notes
[
]
Horace Gladstone was based on Dr Hastie Lanyon from Robert Louis Stevenson's The Strange Case of Dr Jekyll and Mr Hyde.
Horace Gladstone was John Harkins' final role on the show.
His equivalent in the main time band may be the Mr. Gladstone who runs a drugstore in Bangor in the audiobook The Enemy Within.
Appearances
[
]