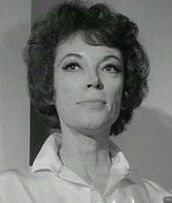 Grayson Hall
(September 18th 1922 – August 7th 1985), born
Shirley Grossman
in Philadelphia, Pennsylvania, was an American Oscar-nominated actress (1964 -
The Night of the Iguana
). She joined the cast of the original
Dark Shadows
in the middle of
1967
as
Dr Julia Hoffman
and became one of the show's more prolific stars. She remained on the program until the series end in
1971
, playing several character parts throughout the course of the show. Not counting lost episodes, Grayson Hall starred in a total of 472 episodes of
Dark Shadows
, 16 of which she played more than one character. She also went on to star in both
MGM
Dark Shadows
feature films,
House of Dark Shadows
and
Night of Dark Shadows
.
After Dark Shadows, Grayson appeared in two other popular daytime soap operas: All My Children (briefly) in 1973 and One Life To Live in 1983. Grayson was married to Sam Hall, a writer on the Dark Shadows series and screenwriter for House of Dark Shadows and Night of Dark Shadows. Grayson succumbed to cancer in New York City one month shy of her 62nd birthday (though obituaries showed her to be 59).
Appearances
Edit
265 276 282 283 284 287 288 289 290 291 292 295 296 298 299 300 302 304 305 306 308 309 314 315 317 318 320 321 322 323 324 326 327 328 329 330 332 333 336 338 339 340 341 342 343 345 346 347 348 349 350 351 352 353 354 355 356 357 358 359 360 361 362 363 364 365 461 462 464 466 468 469 472 474 476 480 481 483 484 485 486 487 488 490 491 492 493 494 496 497 500 501 503 507 508 510 511 512 515 516 520 521 522 531 534 535 536 537 538 541 542 544 547 548 549 554 557 558 560 561 564 565 566 567 568 569 570 571 572 579 580 582 584 585 590 591 592 593 595 596 597 600 601 604 605 606 608 612 613 615 616 618 619 620 621 627 628 629 633/634 635 636 637 638 639 649 651 654 655 658 659 660 661 666 667 672 673 674 675 677 678 683 686 687 688 692 693 698 699 700 701 835 836 837 839 840 841 842 845 847 849 853 855 856 858 885 886 887 888 889 890 896 898 900 903 905 907 909 910 911 912 913 916 918 922 923 924 927 928 930 931 932 933 934 935 937 938 940 943 948 951 952 957 958 963 964 965 969 970 971 977 980 981 1007 1008 1012 1031 1032 1035 1036 1038 1039 1041 1042 1043 1044 1045 1047 1048 1050 1052 1053 1054 1057 1058 1059 1060 1061 1062 1063 1064 1065 1066 1067 1068 1069 1070 1071 1075 1076 1078 1079 1082 1084 1085 1087 1088 1089 1090 1091 1092 1094 1095 1096 1097 1098 1101 1102 1103 1104 1105 1106 1107 1108 1109 1110 1111 1112 1113 1114 1116 1117 1122 1129 1131 1132 1134 1136 1139 1143 1144 1148 1149 1150 1152 1168 1169 1172 1173 1176 1177 1187 1191 1193 1198
368/369 375 376 379 380 382 385 386 393 403 405 406 407 408 409 410 412 417 419 421 422 423 425 427 430 443 450 665 666 885 886
701 702 703 706 708 713 715 718 719 724 733 734 736 740 741 745 746 748 749 750 752 757 759 763 765 766 778 779 781 783 784 785 786 787 788 790 792 797 798 799 800 801 806 807 808 810 811 815 819 820 821 823 825 826 827 830 831 834 855 856 887
969 970 971 982 984 985 1007 1008 1012 1015 1018 1019 1024 1025 1026 1031 1032 1033 1034 1035 1036
1187 1191 1193 1198 1199 1203 1204 1205 1206 1211 1212 1213 1214 1216 1220 1221 1222 1223 1224 1225 1226 1229 1230 1231 1232 1234 1235 1236 1237 1238 1239 1240 1241 1242 1243 1244 1245
Film Appearances
Edit
External Links
Edit