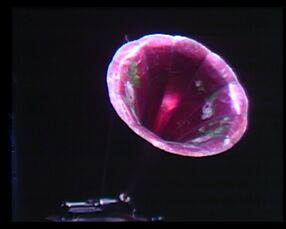 A
Gramophone
was an early disc phonograph with a large horn that amplified music played on a record.
Quentin Collins
owned an Edison Home
cylinder
phonograph (incorrectly called a "gramophone" in the show) which was in
his room
in
Collinwood
from which people could hear
Quentin's theme
playing nearly 100 years later when his ghost was haunting Collinwood (
643
-
699
).
The phonograph first appears in Episode 643. A total of three different horns were used in the series. The first was a red Hawthorne & Sheble floral horn decorated with roses that showed some damage. The second was a normal black Edison Home flower horn. The last was a fine condition red floral horn painted with chrysanthemums, maker unknown.
Community content is available under
CC-BY-SA
unless otherwise noted.