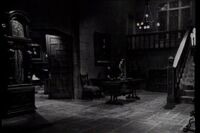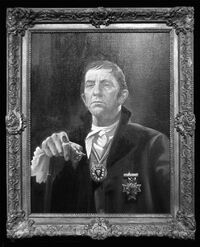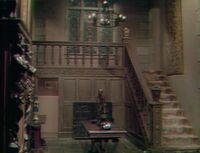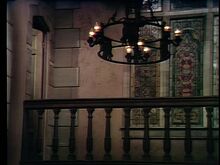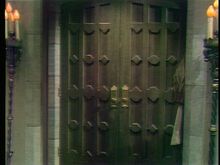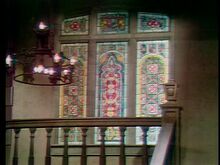 The foyer at Collinwood contained two chambers bisected by a wide stone entranceway. The large double-doors of the Great House opened into a small vestibule containing a coat-rack to the left and a four-legged chest to the right. Facing inward, the vestibule channelled into a larger greeting area. To the left was a large 18th century portrait of Barnabas Collins and a door leading into Roger Collins' study (1, 205, 217, 218).
Towards the right was a staircase leading up to the second floor landing. Beneath the landing was a divan and a long, wooden table that sometimes held a telephone and a sculpture of a man with a shovel resting upon it. A small doorway behind the table led towards another wing of the house containing the kitchen and dining area. Parallel to the table was a sideboard, above which rested a portrait of an unspecified Collins family member (1).
Directly opposite from the entranceway was a large set of double-doors which led into the drawing room, the most often-used room in the house. Beside the entrance to the drawing room stood a large grandfather clock (1). The clock was nearly 200 years old in 1967 as was probably one of the first pieces of furniture brought into Collinwood (30).
Aside from a few cosmetic differences, the foyer at Collinwood remained relatively unchanged since the house's construction in 1795.
For a list of appearances of the foyer see the main article on Collinwood.