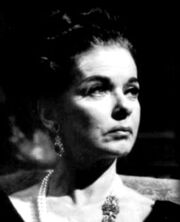 Elizabeth Collins Stoddard was the matriarch of the esteemed Collins family in the latter half of the 20th century. She was also the owner and manager of the various Collins family business enterprises including the Collins Fishing Fleet and the cannery.
Early Life
Edit
During her college years, she formed a romantic relationship with a man named Henry Francis. Henry projected an image of wealth and posterity, which impressed Elizabeth immensely, but in truth, Henry was practically a pauper. The two eventually drifted apart, and Liz would not see Henry again for another twenty-five years (Victoria Winters (novel)).
By the late 1940s, Elizabeth fell in love and married a man named Paul Stoddard. They had a daughter together named Carolyn. Not long after Carolyn's birth, Paul Stoddard disappeared. Psychologically distraught from this incident, Elizabeth became a recluse and refused to ever again step foot outside the walls of the great family mansion known as Collins House (Victoria Winters, Strangers at Collins House).
In June of 1967, Elizabeth invited her old college friend, Henry Francis to stay at Collins House as a guest with his daughters, Rachel and Dorothy. She soon discovered that Henry and Rachel were involved in a kidnapping scheme involving a rich heiress named Grace Fontaine and was taking advantage of Elizabeth's past affections for Henry in order to hide in safety at Collins House (Victoria Winters).
In July, Elizabeth invited her dying uncle, Henry Collins to spend his final days in a special, secret room on the 3rd floor of Collins House. After Henry Collins passed away, Elizabeth orchestrated all of her uncle's funeral arrangements (Strangers at Collins House).
The information provided in Victoria Winters indicates that Elizabeth Collins attended college circa 1942.
Elizabeth's history with husband, Paul Stoddard is consistent with information provided in the original Dark Shadows television series.
Appearances
Edit
Community content is available under
CC-BY-SA
unless otherwise noted.