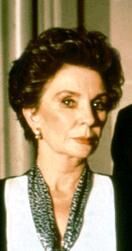 Elizabeth Collins Stoddard was the matriarch of the aristocratic Collins family of Collinsport, Maine. Although a woman of great pragmatism, she was passionately devoted to her family. She was a leading force in the family business, but conducted most of her day-to-day affairs from her home at Collinwood. Elizabeth shared the ancestral home with her brother, Roger, his young son, David, and daughter Carolyn. She employed her niece Daphne to work as the family accountant.
Notes
[
]
Although actress Jean Simmons is credited in every episode of the series, she does not in fact appear in every episode.
In the original Dark Shadows series, the role of Elizabeth Collins Stoddard was played by Joan Bennett. This version of Elizabeth was an eccentric recluse, known for her odd behavior and for shying away from family drama.
Although it is known that Elizabeth was once married to a man named Stoddard, very little information is provided about her early life.