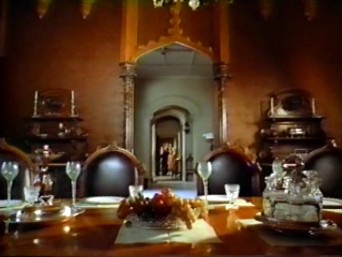 The dining room was a large room adjacent to the kitchen on the first floor of the great house of Collinwood. Elizabeth Collins Stoddard and her brother, Roger Collins often entertained houseguests and invited them for meals prepared by the Collins' cook and housekeeper, Mrs. Sarah Johnson.
One evening in June of 1970, the Collins held what was likely to be the most somber meal of their lives. Carolyn Stoddard, daughter of Elizabeth and niece of Roger had become the victim of a brutal vampire murder. Roger's son, David burst into the dining room in wild excitement, exclaiming that Carolyn was still alive and that he had just seen her down by the old swimming pool. David's relatives dismissed the boy's wild claims, but family friend, Professor T. Eliot Stokes took his words seriously and questioned him at length.
By July of the following year, the Collinwood property had been handed down to a new owner – Quentin Collins. Caretaker, Carlotta Drake, served meals in the dining room to Quentin and his wife, Tracy. Occasionally, Quentin would invite his friends, Alex and Claire Jenkins over for meals and entertainment.
Appearances
Edit
Community content is available under
CC-BY-SA
unless otherwise noted.