David Selby (born February 4, 1941) played several characters on the original Dark Shadows. all of them named Quentin: Quentin Collins (1897), Quentin Collins (1840), Quentin Collins (1970 PT), and Quentin Collins (1841 PT). He also played the dual role of Quentin and Charles Collins in the film Night of Dark Shadows.
Selby has had numerous guest starring roles on television shows. He played Richard Channing on the primetime soap opera Falcon Crest. He has also had parts in movies including Surviving Christmas, Dying Young, and The Social Network.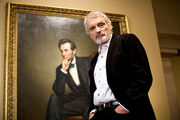 Selby recently filmed a cameo appearance on Tim Burton's Dark Shadows film along with fellow original series cast members Jonathan Frid, Lara Parker and Kathryn Leigh Scott.
Notes
[
]
Selby was forced out with appendicitis during the end of the 1841 PT storyline, and missed the final episode.
Selby made his debut in episode 646, but he wasn't given any lines until episode 701 (apart from laughter, starting in 689).
Originally Quentin's sideburns were provided by the makeup/hairdressing department, but Selby eventually grew his own.
He is the father of Jamison Selby
Appearances
[
]
646, 669, 676, 679, 680, 681, 682, 684, 685, 689, 690, 691 693 694 696 699 701 702 703 704 707 708 709 710 711 714, 718, 719, 720, 721, 722, 723, 724, 725, 726, 727, 728, 729, 730, 731, 732, 733, 736, 737, 738, 741, 742, 743, 744, 745, 746, 747, 748, 749, 750, 751, 752, 755, 757, 758, 759, 761, 762, 763, 766, 767, 768, 779, 780, 785, 786, 788, 790, 981 1000 1001 1002 1003 1060 1071 1197 1203 1204
Audio Performances
[
]
External links
[
]