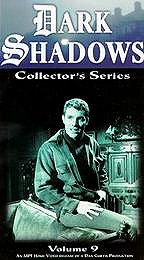 Dark Shadows Collector's Series Volume 9 was released on video on July 20, 1994 by MPI Media, along with Volumes 10, 11 and 12. It contains episodes 41-45 of the original series.
Description
Edit
From the back of the box:
Starring Joan Bennett, Louis Edmonds, Nancy Barrett, Mitchell Ryan, Joel Crothers, Frank Schofield, Kathryn Leigh Scott, David Ford, Alexandra Moltke
With its alluring tales of Gothic mystery and supernatural intrigue, DARK SHADOWS became one of the most popular daytime series of all time. Since first airing on ABC-TV from 1966-71, DARK SHADOWS has earned the reputation as being one of the most unusual and enduring programs in television history. The character of Barnabas Collins, a guilt-ridden, 175-year-old vampire, brought the show tremendous success.
For the first time on home video, MPI presents the DARK SHADOWS COLLECTOR'S SERIES, featuring the spooky series' earliest episodes, before the arrival of Barnabas.
Elizabeth Collins Stoddard worries that her daughter Carolyn is more interested in the worldly Burke Devlin than in Carolyn's fisherman boyfriend Joe Haskell.
Bill Malloy confides to Elizabeth that he believes Roger Collins framed Burke Devlin on the manslaughter charge and bribed Sam Evans to back up his story.
Contents
Edit
Contains 5 Complete Episodes B&W Approx. 110 minutes Not Rated Includes bonus interview footage
Previous Volumes

Current Volume

Next Volumes

Volume 9
Community content is available under
CC-BY-SA
unless otherwise noted.