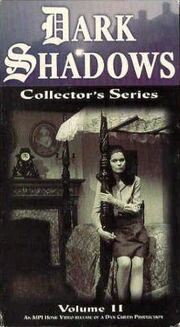 Dark Shadows Collector's Series Volume 11 was released on video on July 20, 1994 by MPI Media, along with Volumes 9, 10 and 12. It contains episodes 51-55 of the original series.
Description
Edit
From the back of the box:
Starring Joan Bennett, Louis Edmonds, Nancy Barrett, Mitchell Ryan, Joel Crothers, Kathryn Leigh Scott, David Ford, Alexandra Moltke
With its alluring tales of Gothic mystery and supernatural intrigue, DARK SHADOWS became one of the most popular daytime series of all time. Since first airing on ABC-TV from 1966-71, DARK SHADOWS has earned the reputation as being one of the most unusual and enduring programs in television history. The character of Barnabas Collins, a guilt-ridden, 175-year-old vampire, brought the show tremendous success.
For the first time on home video, MPI presents the DARK SHADOWS COLLECTOR'S SERIES, featuring the spooky series' earliest episodes, before the arrival of Barnabas.
Victoria Winters and Carolyn Stoddard, out walking on Widows' Hill in the dark, are frightened when they see what looks like a dead body floating in the ocean water. Matthew Morgan goes out to investigate, and says there was nothing to be seen. But he later recants his story.
Little David Collins, in a prognosticating mood with his new crystal ball, says he knows who it was and what happened. And he also says that he has an even more scary prediction about Miss Winters herself...
Contents
Edit
Contains 5 Complete Episodes B&W Approx. 110 minutes Not Rated Includes bonus interview footage
Previous Volumes

Current Volume

Next Volumes

Volume 11
Community content is available under
CC-BY-SA
unless otherwise noted.