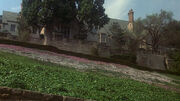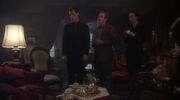 Collinwood was a mansion on Widows' Hill in Collinsport, Maine. It was the primary home of the Collins family.
Collinwood, also known as the Great House, was built in England on the Moors near Lyme Regis prior to 1790. It was disassembled and sailed in pieces to Boston in the United States, where the individual components were then dragged by ox-drawn cart to Collinsport for reassembly. The house was ornamented with fine materials from several locations in Europe (1). Peter Bradford supervised the American construction in 1790 for Joshua Collins and his family (7). Completion of the house was expedited after the death of Joshua's son Barnabas Collins, and the family quickly relocated to their new home (10). Sarah Collins died in the house shortly after (12), and her spirit haunted the grounds into the twentieth century (1).
Collinwood was still standing in the year 1991, and was run by matriarch Elizabeth Collins Stoddard. Other residents of the house included Roger Collins, Carolyn Stoddard, David Collins, Sarah Johnson, and Victoria Winters (1). Daphne Collins lived at Collinwood until her death in 1990 (2), and Dr. Julia Hoffman moved into the house during the same year (1).
In 1990, Victoria Winters inquired as to the number of rooms in the house, and Carolyn Stoddard replied that she didn't think anyone knew the actual number, and that most of the rooms had been closed off (1). The entire west wing of the house, including a library, was closed and not in use (4).
Rooms still in use included the Great Hall, the drawing room, the kitchen, and several bedrooms (1). One bedroom was converted into a medical lab for Julia Hoffman during her stay (2). As a result of Collinwood's size and multiple exits, several terraces extended around the outside of the house. Adjacent to the house was a lily pond with chaise lounges for seating (3).
The estate included a second Great House, known by 1990 as the "Old House". This was the original family home in America. In addition to the two mansions, there were stables (1) and an old swimming pool (2).
Greystone Mansion served as the shooting location for Collinwood and the basis of the exterior of the house. For the house's front side, live footage of the mansion was used. For the side facing the ocean, a model was used, which incorporated elements of Greystone into its design.
Community content is available under
CC-BY-SA
unless otherwise noted.