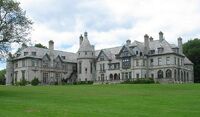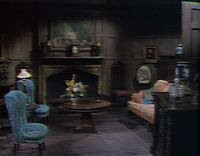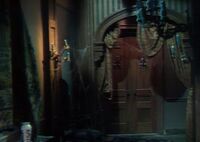 This article is about Collinwood in 1841 Parallel Time. For other instances, see Collinwood and Collinwood (1970 PT)
Collinwood was the primary home of the Collins family in the year 1841 in the mysterious world of Parallel Time. It was located on Widows' Hill in the Collinsport, Maine that existed in this alternate time band.
Physically, this Collinwood appeared to be nearly identical to its counterpart in the mainstream timeline, although it was much older, having existed as early as the year 1680. The east wing of this Collinwood was also open and in full use.
Because of a curse, Collinwood had a haunted locked room, the bedroom of Brutus Collins, in its west wing in which members of the Collins family, chosen in a lottery, were forced to spend a night during every generation. All those who went into the room for the night were found either dead or insane the following morning until Bramwell Collins and Catherine Harridge Collins emerged unharmed, defeating the curse.
Flora Collins, mistress of the house, gave control of the family business to Bramwell after the end of the curse, and Bramwell and Catherine, then married, lived at Collinwood together (1245).
Residents - 19th Century

Residents - 17th Century
Ghosts
Like the other versions of Collinwood, the house that stood in 1841 Parallel Time was also haunted. There were several spirits that appeared to or posessed the living members of the family. They included:
Notes
Community content is available under
CC-BY-SA
unless otherwise noted.