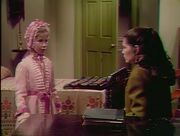 The Collinsport Afghan is a distinctive crocheted blanket that eventually appeared in the homes of nearly every resident of Collinsport.
The blanket dates back to the 18th century (at least) as seen in the 1795 storyline and was still present in the 20th century. It decorated the couch in the Evans Cottage, lay on the beds at the Collinsport Inn, and even the deathbed of Charles Delaware Tate. The afghan also appeared in Parallel Time, where it decorated the homes of both Bramwell Collins and Bruno Hess.
The afghan can be interpreted symbolically, as a visual representation (or symbol) of the "blanket of evil" that covers Collinwood and Collinsport.  Or, alternatively, the afghan may be interpreted literally, as an insignificant yet obvious prop that was simply overused.
There is a second, less-used afghan with a yellowish border that can be seen in various locations, such as Victoria Winters' bed (286), Jeff Clark's apartment (602), and Chris Jennings' hotel room (651). This granny-style afghan of chartreuse and maroon similarly traverses centuries, households, and parallel times.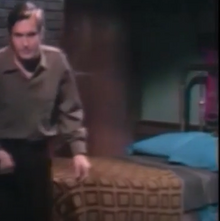 Appearances
[
]
297, 298, 303, 307, 314, 342, 366, 367, 383, 400, 500, 524, 529, 532/533, 537, 541, 561, 573, 574, 577, 592, 599, 607, 611, 616, 652/653, 654, 670, 671, 673, 674, 675, 677, 678, 683, 687, 692, 695, 703, 758, 765, 772, 783, 809, 810, 811, 818, 822, 828, 829, 866, 877, 878, 892, 906, 919/920/921, 922, 962, 986, 997, 1032, 1033, 1034, 1035, 1036, 1038, 1042, 1043, 1044, 1045, 1046, 1047, 1048, 1049, 1051, 1059, 1060, 1111, 1118, 1120, 1129, 1213, The Enemy Within
[

]