We're Getting Mutants in the MCU - The Loop
Play Sound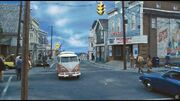 Collinsport was a small coastal fishing village located in Maine. Burke Devlin once noted that it wouldn't fill four square blocks in New York (7). Collinsport was 50 miles from Bangor, and near the town of Logansport (1, 8).
The town was also somewhat of an artist colony, enjoying regular visits by summer people (3). The train stopped making regular stops in Collinsport in 1962 (1).
In 1967, Constable Jonas Carter oversaw local law enforcement (17). The local newspaper, The Collinsport Star was published weekly (7, 21). The Collinsport Inn was located on the main street and a traffic light was situated outside the church (10, 23).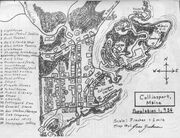 Locations and businesses
[
]
Residents
[
]
Dates in parentheses indicate when each character is known to have lived in Collinsport.
Isaac Collins (

1690

-1700s)
Joshua Collins (1735-1805)
Naomi Collins (1738-1796)
Jeremiah Collins (1763-1795)
Abigail Collins (1748-1796)
Barnabas Collins (1770-1970, possibly later)
Sarah Collins (1784-1795)
Josette Collins (1795)
Nathan Forbes (1770s-1795)
Quentin Collins (1870-1896, 1897)
Ezra Braithwaite (1881-1969)
Jamison Collins (1885-1940s)
Elizabeth Collins Stoddard (1917-1970, possibly later)
Paul Stoddard (1940s-1949, 1970)
Jason McGuire (1940s-1949, 1967)
Matthew Morgan (1949-1967)
Carolyn Stoddard (1946-1970, possibly later)
Jonas Carter (1957-1967)
Roger Collins (1925-1957, 1967-1970, possibly later)
Burke Devlin (1930s-1957, 1967)
Maggie Evans (1946-1970, possibly later)
Sam Evans (1930s-1967)
Harry Jones (1957-1967)
Bill Malloy (1930s-1967)
D. Reeves (1957-1967)
Mr. Wells (1957-1969)
Alice (1967)
Lucy Cameron (1967)
Mr. Cameron (1967)
David Collins (1967-1970, possibly later)
Jim Hardy (1967)
Harry (1967)
Joe Haskell (1967)
Mike (1967)
Harry Shaw (1967)
Steve (1967)
Mrs. Turner (1967)
Victoria Winters (1967-1968)