← Barnabas Collins and the Mysterious Ghost →
Number

13

Publisher
Timeline

Present Day

Author
Pages

158

Released

January 1970

ISBN

62-258

Dark Shadows Barnabas Collins and the Mysterious Ghost
Barnabas Collins and the Mysterious Ghost
is the thirteenth of the
novels
written by
Marilyn Ross
as part of a separate continuity. Barnabas risks his freedom to save the life of the woman he loves.
Publisher's summary
Edit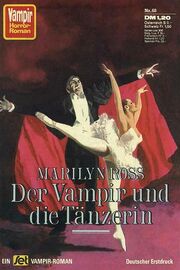 Collinwood is plagued with a series of menacing events when a ballet troupe arrives there to perform for the summer tourists. One girl in particular, the beautiful Diana Samson, whom Barnabas has come to love, is repeatedly attacked by a mysterious, invisible presence.
When the star of the ballet is murdered, everyone is suspect -- including Diana and Barnabas. And when several graves are found opened, the old legend of the invisible ghost of Collinwood is revived.
As the attacks on Diana continue, Barnabas must find a way to stop them before she is murdered. But will he have to fight a human enemy -- or a supernatural force with powers greater than his own?
Synopsis
Edit
Characters
Edit
Background information and notes
Edit
This story is not compatible with the continuity supplied by the original Dark Shadows television series. In this story, Barnabas Collins was never chained up in the secret room at the Collins family mausoleum, but instead, continued to exist throughout the ages assuming the guise of his own son, and later grandson.
Despite the differences between the novels and the original Dark Shadows television series, the relationship between Barnabas Collins, Angelique and Josette appears to be the same in the continuity of the novels as it was in the show.
Takes place in the modern day.
Also Published in Germany in 1974 with a cover illustration by Carolus Adrianus Maria Thole.
Community content is available under
CC-BY-SA
unless otherwise noted.