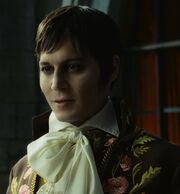 Barnabas Collins
, cursed as a
vampire
in the eighteenth century, was responsible for the restoration of the
Collins
name and image in 1972 as well as the destruction of the
witch
Angelique Bouchard
.
Eighteenth Century
Barnabas traveled with his parents, Joshua and Naomi, from Liverpool, England to the east coast of North America in 1760, where they established the fishing village of Collinsport.
Barnabas engaged in a flirtatious and sexual affair with family servant Angelique, and the girl soon fell in love with Barnabas. Although she pleaded with Barnabas to return her affections, Angelique faced only rejection. When Barnabas' parents were killed by Angelique's witchcraft, Barnabas became obsessed with the dark arts, hoping to discover the cause of their deaths.
Barnabas met and fell in love with Josette DuPres, sending Angelique's jealousy into a rage. Using magic, Angelique forced Josette to walk to the cliff at Widows' Hill and fall from its summit.
Barnabas, consumed with grief, leapt after her, hoping to end his life on the rocks below the cliff, but found that he survived his fall. While Angelique watched from above, Barnabas' body transformed and he became a vampire.
Cursed to exist only in the darkness, Barnabas struggled to keep the family business afloat, but was unable to protect himself from Angelique, who turned the town against him and buried him in the woods inside a chained coffin.
Twentieth Century
Barnabas was released one hundred and ninety-six years later, into the year 1972, when construction workers building a McDonald's in Collinsport discovered and unchained the coffin. Thirsting beyond his control, Barnabas attacked and killed all of the workers. Believing that he had been released in hell, Barnabas mistook the headlights of an oncoming car to be the eyes of the devil.