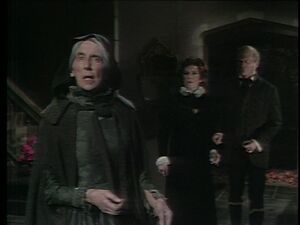 A member of Ireland's famed Abbey Theatre, sharp-featured character actress Anita Bolster (sometimes billed Anita Sharp-Bolster) had enjoyed a long career on the British stage and screen before coming to America in 1938. She received rave reviews on Broadway in Lady in Waiting, with which she also toured until making her American screen debut in 1941. Bolster became one of the busiest character actresses of the 1940s, usually playing prissy spinsters, gossips, and housekeepers. In the 1950s, she twice played "second witch" in television versions of Macbeth.
She had also appeared in a project with Joan Bennett before when they were both in the 1945 movie "Scarlet Street."
She had only ten more screen credits - all in the 1970s - after she appeared on Dark Shadows, playing the good witch Bathia Mapes, who was brought to Collinwood in 1795 to cure Barnabas from his vampire curse.
Bathia appears in just three episodes: 449, 450 and 451. Unfortunately, she meets a fiery end, thanks to Angelique The episodes aired in March 1968.
Community content is available under
CC-BY-SA
unless otherwise noted.